Wet/Dry Shop Vacuum
Comprehensive Search & Buying Guide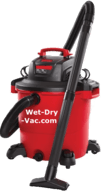 Welcome to the most complete and extensive source of information about wet/dry shop vacuums on the Internet!
A wet/dry vacuum–sometimes casually referred to as shop vacuum, or Shop-Vac®, after the original popular brand–is a vacuum cleaner designed to handle heavy-duty tasks of vacuuming up both dry and wet debris. They are typically used in workshops or by contractors, or for cleaning out cars, basements, and garages. Over the years, however, they have become more refined, added features like blowers, HEPA filters, and a larger variety of vacuum attachments so that they can be used in living spaces as well. Some are now very quiet, and could even be used as your main house vacuum.
Buying a wet/dry vac can be difficult and confusing, however. There are hundreds of choices available, complete specifications are difficult to find, and they are often wrong and contradictory. I was actually shocked at how many of the specs on major websites are incorrect. Even where specifications are correct, there were no good tools to find and compare all of the available models.
Here you can do detailed searches to find just the right wet/dry vacuum for your needs, You can compare and review hundreds of different models of wet/dry shop vacuums in this extensive database to choose the perfect one for your needs, and even compare pricing on most of them.
You can also see exactly which filters and bags work with which vacuums—so even if you already have a vacuum, this site is the easiest way to find the right filters and bags for your model. I even provide 3rd party brands of filters that should fit your vacuum, so you can save money (if you want) versus the OEM filters for your vacuum.
PDF manuals are also available for most vacuum models, as well as parts lists and brochures for many. There are 36 different search criteria you can specify, and you can search for any combination of criteria, and choose one of 8 different ways to sort your results.
To get started, you can go right to the Wet/Dry Shop Vacuum Search, to find the exact vacuum to fit your needs. Just click on any of the vacuum names in the search results to see a detailed information page for that vacuum. You can also read the Wet/Dry Shop Vacuum Buying Guide to get a deeper understanding about wet/dry shop vacs, or see the See the List of Brands and learn more about each one. Below are some common starting points.
Search For a Wet/Dry Shop Vacuum Filter
If you are looking to find a filter for your existing wet/dry shop vacuum, you can just enter your model number if you know it. Otherwise, you can select the brand and the capacity in gallons to find either your model or one very similiar to it.
---
Search for a Wet/Dry Shop Vacuum (currently available to purchase)
Battery-Powered
120 Volt By Size/Capacity
By Country Where Vacuum is Manufactured
You can combine any set of criteria in your search. For example:
All Wet/Dry Shop Vacuums With:
A Capacity of 8 to 12 Gallons
With Wheels
Using 1,200 Watts or More
Peak Horsepower of 5 or Higher
Power Cord Length of 12 Feet or More
Hose Diameter of 1.875 inches or More
At Least a 2-Year Warranty
Priced for less than $200 on Amazon